Konferencja o nowych ruchach religijnych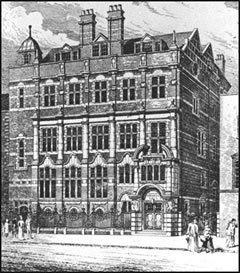 CESNUR to założony w 1988 roku międzynarodowy, interdyscyplinarny Ośrodek Badań Nad Nowymi Ruchami Religijnymi. Ta największa na świecie organizacja zrzeszająca religioznawców, psychologów i socjologów religii co roku organizuje konferencje poświęcone zagadnieniom różnorodności religijnej oraz najnowszym zjawiskom z pogranicza religii. Nie boi się stawiania pytań, które z punktu widzenia dominujących religii mogą być traktowane jako niewygodne. Badacze CESNUR demaskują pseudonaukowe metody tzw. ruchów anty-kultowych i starają się dostrzegać w poszczególnych ruchach religijnych to, co w nich wyjątkowe. Tegoroczna konferencja, która odbędzie się w dniach od 16 do 20 kwietnia w London School of Economics, zapowiada się szczególnie interesująco. Naszą uwagę przyciągnęły następujące bloki tematyczne:
FROM WITCHCRAFT TO WICCA
The Baha'i Faith and Wicca – A Comparison of Relevance in Two Emerging Religions – Lil ABDO (School of Oriental & African Studies, London)
Wicca in Italy: An Outsider's Inside View – Francesca CIANCIMINO HOWELL (Doctoral Candidate, Open University, Milton Keynes)
Spelling out History: Transforming Witchcraft Past and Present – Helen CORNISH (Goldsmiths. University of London)
The Glastonbury Effect: An Overview – Marion BOWMAN (Open University, Milton Keynes)
WESTERN ESOTERICISM AND NEW RELIGIOSITY
Openings for Power-Orientated Conceptualization of Western Esotericism – Nina KOKKINEN (Doctoral Candidate, University of Turku)
New Age Terrorists from Chechnya and Anthroposophist Presidents from Georgia: How 'Western' Is Western Esotericism? – Eduard TEN HOUTEN (University of Amsterdam)
Conspiracy Theory as Esoteric Discourse – Sara THEJLS (University of Copenhagen)
"Traditional New Religions": The Use of Tradition Among Contemporary Esoteric Movements – Fredrik GREGORIUS (Doctoral Candidate, University of Lund)
Kenneth Grant and the Re-Enchantment of Occultism – Henrik BOGDAN (Göteborg University)
The Birth of the New Aeon: Magick and Mysticism of Thelema – Gordan DJURDJEVIC (University of British Columbia, Vancouver)
The Political Implications of the Rune-Gild World View – Thomas KARLSSON (Doctoral Candidate, University of Stockholm)
"We Demand Bedrock Knowledge": Modern Satanism Between Secularized Esotericism and Esotericised Secularism – Jesper Aagard PETERSEN (Norwegian University of Science and Technology, Trondheim)
Western Esotericism and the Study of New Religiosity – Kennet GRANHOLM (Abo Akademi University, Turku)
TWENTY YEARS OF STUDIES ON ESOTERICISM
French Alchemical Groups of the Second Half of the 20th Century: A Comparative Study – José ANES (University "Nova de Lisboa")
Playing With a Tradition or Belonging to Another Tradition? The Gnostic Beliefs in Some Minority Religious Groups – Régis DERICQUEBOURG (Charles De Gaulle-Lille 3 University)
Taming the Visionary Imagination: Revelation and Authority in French Spiritism, 1858-1870 – John MONROE (Iowa State University, Ames)
Between the "Transcendent Unity of Religions" and the Ideological Construction of "Tradition": Some Remarks on the Problems of the "Christian Esotericism" Within the Framework of the "Traditionalist" School – Marco TOTI (Doctoral Candidate, University of Messina)
FROM ANCIENT WISDOM AND FREEMASONRY TO NEW AGE
Healing Power of Theurgic Astrology: The Testimony of Iamblichus and the Chaldean Oracles – Isha GAMLATH (University of Kelaniya)
Freemasonry and Religion in Paris: How to Cast a Glance Upon Some Preconceived Ideas? – Jean-Pierre LAURANT (École Pratique des Hautes Etudes, Sorbonne University, Paris)
Twenty Years of Scholarship on British Freemasonry – Róbert PÉTER (University of Szeged)
The Changing Concept of New Age: Case Study of Some Recent Occurrences in Slovenia – Aleš ČRNIČ (University of Ljubljana)
TWENTY YEARS OF STUDIES ON ALEISTER CROWLEY
Painting Dead Souls: New Discoveries on Aleister Crowley and Art – Marco PASI (University of Amsterdam)
The Scientific Aeon: Magic, Science and Psychology in Crowley's Scientific Illuminism – Egil ASPREM (University of Amsterdam)
The Initiatory System of the AA– Henrik BOGDAN (Göteborg University)
The Bhikku and the Magus: Exploring Allan Bennett's Influence on Aleister Crowley – John L. CROW (University of Amsterdam)
Crowleyan Echoes: Baraka and Fantasy – Dave EVANS (Bristol University)
Legitimization Strategies and Charismatic Control in Thelema – Martin P. STARR (University of Chicago)
Opłata konferencyjna wynosi 110 Euro. Jeśli ktoś z Was postanowi wziąć udział w konferencji, prosimy o wcześniejszy kontakt z naszą redakcją.
Cały program do zobaczenia tutaj.